If you're a title company with a presence on social media, you're already ahead of the pack for most small to medium businesses in the industry! It's exciting to see businesses take the time to work on social media marketing, but growing your audience and generating leads from these platforms takes time and effort.
It should be a part of every business's overall growth strategy these days. Getting on social media may be easy, but mastering it as a company is anything but simple. Here are some statistics to demonstrate how social media is a great growth channel for your business and tips on how to do it right.
10 Reasons your title or real estate company needs to be on social
There are lots of reasons businesses should be on social media. Here are just a few of the latest statistics on social media from Sprout Social:
There are 45 billion monthly active users on Facebook
83% of consumers use Facebook
66% of Facebook users say they "Like" or "Follow" a brand on the platform
Instagram has over 1 billion monthly users
90% of Instagram users follow a business
Pinterest has 300 million Global Monthly Active Users
Pinterest sess a 30% year-over-year increase in monthly active users
LinkedIn has over 660 million registered users
90 million users on LinkedIn are senior-level influencers
LinkedIn is a 277% more effective lead generator than Facebook
These numbers make it clear that if growing your business is a goal this year, you'll want to add social media to your marketing. However, simply being present on the platforms isn't enough. You have to understand how each of these platforms works, the type of content they prioritize and implement a strategy to get the attention of your audience.
Unfortunately, I see a lot of companies applying bad practices when it comes to social media.
Here are 8 major social media faux pas
Businesses on social media should avoid these mistakes:
Using a personal profile for your company instead of a company page
Leaving your company profile unfinished
Boring content
Posting too often or not enough
Paying for likes
Forgetting the "social" in social media
No lead generation strategy
Forgetting to measure your growth
1. Using a personal profile for your company
I don't really understand the trend of using personal profiles for businesses. I see it on both LinkedIn and Facebook, but whatever the reason for this, the tactic is most likely not going to produce the results you want. Besides, using a personal Facebook profile for commercial gain is against their rules, and your account may be suspended.
By setting up a Company Page, your business becomes easier to search, find, and tag by others on the platform.
Your LinkedIn Company Page is SEO-friendly, so the copy you write for the description should be action-oriented with keywords related to your clients' Google searches.
Another reason to use a company page instead of a personal profile on LinkedIn is that content published to your company page is easier to find than posts on a personal profile. This gives your posts more longevity than personal updates that show up in your connections' feed for a short period of time. LinkedIn also allows you to target specific audiences in your post settings.
Business pages also have access to free analytics to help you monitor what content resonates with your audience. You can gauge the reach and engagement rate of every post as well as get some deeper insights into your audience demographics.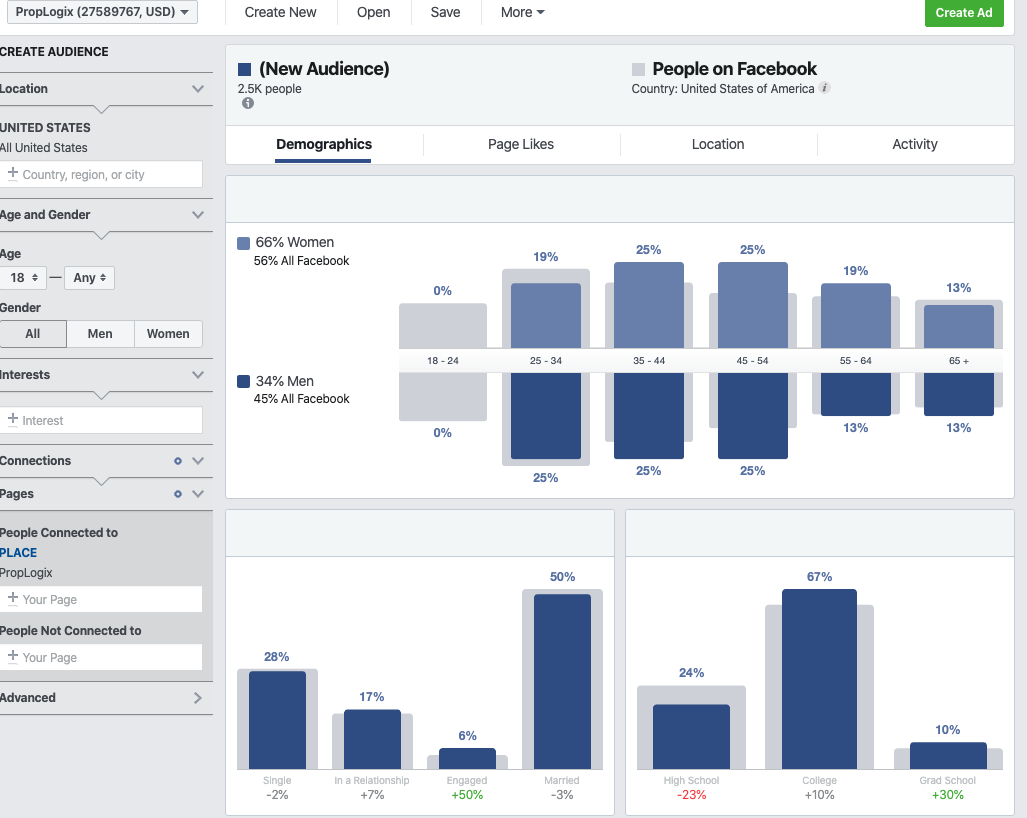 Here you can see that people connected to our Facebook page skew older than "All Facebook" (in grey) and that they are more likely to have gone to grad school. This information can be useful when creating a targeted audience for your ad campaigns.
Your Sales Representatives should still have their own personal profiles and leverage them to connect with prospects, share your company's posts, and join conversations in groups relevant to the real estate and title industry.
2. Leaving your company profile unfinished
It pains me to see company profiles with no logo image, no bio information, and no website link. This is a huge missed opportunity for people interested in learning more about your business. Setting up a LinkedIn Company page for your business is easy. After you've done this, you can ask your employees to link out to the company page on their work experience.
Be sure to utilize the Call-to-Action buttons that you can add to your company profile.
Choose the custom button on your LinkedIn company page that suits your business goals. Custom button options include:
Visit Website
Contact us
Learn more
Sign up
Register
If you're focused on brand awareness, for example, the "Visit Website" or "Learn more" is a good option. If you're looking to increase leads, the "Sign up" or "Register" is well suited for that goal.
Facebook has even more options to choose from:
Don't forget that you can also add CTAs to your website and email newsletters encouraging people to like and follow you on various social media platforms to help grow your audience of engaged users.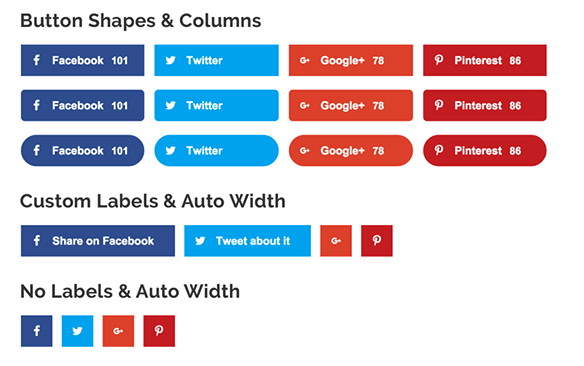 Content Management Systems, like WordPress, have lots of plugin options to create and style these social media sharing CTAs. Marketing tools like Mailchimp also let you easily add these to your emails.
3. Boring content
Now that you have the proper page completed, it's time to start posting! But what? Well, it all depends on the following:
The platform
Your audience
Your company's brand
The content type you share will first be determined by the platform. Instagram is highly visual, LinkedIn is filled with business professionals, Facebook is more laid back, Snapchat is quick video clips, and Twitter is filled with rapid-fire news updates. There are new platforms, like TikTok, popping up every day with slightly different twists on these formats.
A blog article isn't going to work on all of these platforms, so you'll have to think about how you can repurpose content you already have to suit each one.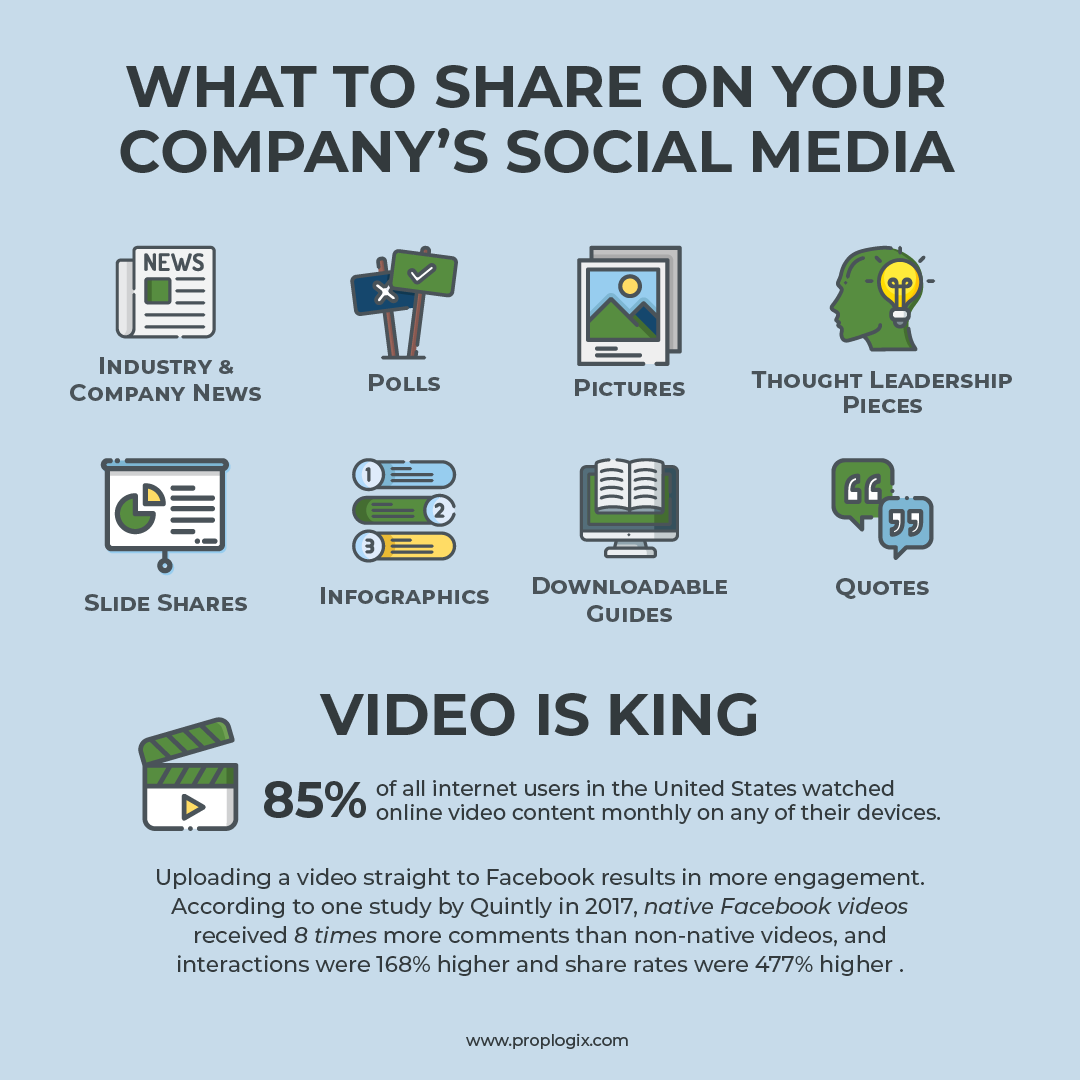 Your audience should be at the center of the content you create and post. It's fun to jump on hashtag bandwagons and celebrate silly national holidays like National Pizza Day, but this won't necessarily get the attention of the people you want. The majority of the content posted should reflect what matters to your clients and how you can help them. Also, be sure to research any hashtags you use to avoid any awkward associations.
If you're not sure where to get started, LinkedIn has a content suggestion feature based on your industry, audience, location, and more. Other suggestions would be:
Company news
Industry articles
Thought-leadership pieces
Polls
Videos
Photos
GIFs
links to your blog articles
You want to find a balance between promoting your business and selling your solutions with helpful and entertaining content tailored to your audience.
Also, be sure to provide context and a point of view when sharing industry articles.
Finally, your brand is more than your company logo and colors, it's also the tone of voice and the experience you curate for your audience. This may change slightly depending on the platform, however. Although I think even on LinkedIn, buttoned-up professionals enjoy a good meme. Still, you may change the tone of your posts depending on which audiences are more likely to interact with your content on that particular platform.
Once you've decided on what your brand's identity is, be sure to use that consistently. Your website, emails, social media, and other marketing channels should all reflect a similar feel and look.
4. Posting too often or not enough
The exact formula for how often to post is a bit of a mystery, but the typical guidelines for each platform are:
Facebook: 1-2 times a day
Twitter: 5-10 times a day
Pinterest: 5-30 pins a day
LinkedIn: Roughly once every business day, 2 times max
Instagram: 1-2 times a day
Remember that these are suggestions based on other company's efforts and results, so striking the right balance with your specific audience will take some testing. It also depends, again, on your goal for each platform. If you want to drive engagement directly with you on the page, posting twice a day makes sense. If you're more concerned with driving people to your website, take the time to craft one great message with a strong call to action once a day or maybe even as little as 3 times a week.
Experiment with frequency and time of day to get the right balance for your audience. The most important thing is that you don't clog up people's feeds by being an "over-poster."
Use a social media scheduler like Buffer or Hootsuite to create and manage your posts and better manage the time you spend on social media strategy.
5. Paying for likes
Here's the deal with likes. It may seem like a good strategy at first to get more likes because that means you'll have more people viewing your posts and more people viewing means more reach, right? Well, no. Facebook initially shows your posts to about 1-2% of your audience. If it gets a good response from that segment, Facebook shares it with more people. If not, they don't continue to show the post to people, even the ones who "like" you.
It's more valuable to have 1,000 highly engaged users than 100,000 dormant followers. So, instead of buying likes, focus on creating engaging content that your followers will want to comment on and share.
6. Forgetting the "social" in social media
Don't make it all about you. Make sure your company encourages employee and client engagement. Re-share your clients' posts that mention. Respond to comments, and continue the conversation by asking a question.
If you have the resources, consider creating a group on LinkedIn or Facebook dedicated to discussing topics that your audience cares about. At the very least, be sure that someone is dedicated to monitoring your accounts on a daily basis.
7. No lead generation strategy
For both B2B and B2C companies, social media provides a great opportunity to capture new leads to turn into customers. While it may take longer to close a deal for a B2B company, social media, especially LinkedIn, is a powerful and sustainable lead generator.
After building authority with your audience, offer gated content, like ebooks and guides, for them to download. These can be posted organically, boosted, or a sponsored ad.
In order to take full advantage of retargeting the people who come to your website, be sure to install the Facebook Pixel and the LinkedIn Insight Tag. These snippets of code are added to your website to help you measure conversions, create custom audiences, and improve your return on investment.
8. Forgetting to measure your growth
You won't know the success of your social media strategy unless you take the time to look back on the data. Reviewing what works and doesn't work with your audience will help you make better content in the future.
Some important key performance indicators to track include:
Audience growth
Post reach
Post engagement and interaction (likes, link clicks, comments, and shares)
Lead generation and conversions (i.e. landing on your website or downloading a content offer)
There are a lot of vanity metrics that can distract from your most important metrics. What matters most are interactions and conversions.
Why do you want more interaction on social media?
Social media shares help your website's SEO
Your best form of advertising is your current and previous clients
You'll reach more of your future clients
The Takeaway
There is no magic bullet for success on social media. It takes time to build your authority and trust with your audience. We know that many title companies and real estate agents are already stretched thin with other tasks related to their core services. Social media may seem like just a nice to have, but it really shouldn't be overlooked.