If you work in real estate, you know there are a lot of trends and patterns that will either drive your mortgage originations, title sales, and closings either up or down in certain markets.
One of the biggest decisions for many of the people we work with is whether or not they should expand their services into new territories. For title agents tasked with mitigating risk in their everyday work, it can be especially difficult to determine if the risk in a new region will be worth the reward.
The coronavirus outbreak is already having a huge impact on mortgage rates, which is positive for homebuyers entering the market and homeowners looking to refinance, but the impact that it will have on real estate closing delays and new deals is becoming more noticeable with each passing day.
While curveballs like coronavirus are difficult to measure, there are some staple trends to continue monitoring throughout the crisis. There will come a day when quarantine ends, and upticks in these trends will start again.
Three trends to watch in every housing market:
Housing Affordability
Job Growth
New Home Construction
Housing Affordability
When it comes to determining the mortgage payment a homebuyer can afford, most financial advisors suggest the 28/36 rule. That means that a household should spend a maximum of 28% of its gross monthly income on total household expenses. No more than 36% should be spent on total debt services, including housing and long-term debt like car loans.
The winner of the most affordable is calculated on key variables that include:
Housing prices
Interest rates
Income
Overall, home prices continue to outpace wage growth, but there are a few places where the median income can comfortably purchase a median-priced home.
What city has the best housing affordability?
Winner: Best Metro Area for Affordability: Decatur, Illinois
Median household income: $42,908, median home list price: $73,000
Estimated Principal and Interest Payment: $276 or 7.7% of monthly gross income (after 20% down and an interest rate of 3.92%)
Decatur, Illinois, is the best town in the United States if affordability is the top concern for a homebuyer. It's consistently ranked in the top 5 for affordability over the past six years, according to the National Association of Realtors Home Affordability Index. Unfortunately, the city has seen some of the biggest population loss with 5.5% from 2010 to 2018.
Other indexes base rankings of a metro area's affordability on a scale of 1 to 10, with 1 being most affordable and 10 being least affordable. Augusta, Georgia, Birmingham, Alabama, Memphis, Tennessee, Little Rock, Arkansas, and Cincinnati, Ohio all scored a 1.
Where is buying cheaper than rent?
For real estate professionals who tout the virtues of buying over renting, in many metro areas, the inventory shortage for starter homes means that isn't always the case. Fortunately, there are some cities where buying makes more sense than renting, especially if you can afford the downpayment and your credit score qualifies for a low mortgage rate.
ATTOM Data Solutions analyzed home prices and wages at the end of 2019 and determined that cities with more than 1 million people where it's still more affordable to buy a home than to rent include:
Cleveland, OH – median home list price: $79,888, household income: $29,008
Detroit, MI – median home list price: $179,078, household income: $29,481
Philadelphia, PA– median home price $234,900, median household income: $43,744
What are the least affordable cities for homebuyers?
Los Angeles, CA – median home list price: $859,000, median household income: $58,385
Miami, FL – median home list price: $366,519, median household income: $53,348
New York, NY – median home list price: $760,000, median household income: $60,762
Affordability is greatly influenced by perspective. A homebuyer coming from the L.A. or San Francisco area is going to view the median home price of $400,000 in Portland as a steal. Meanwhile, if you're a homebuyer in Cleveland, Ohio, which has a median list price under $100,000, it's sure to give you sticker shock.
Here's another breakdown of most and least affordable cities by time zone.
While affordability is a huge factor in the home purchasing decision, we can't rely on this metric alone to determine the best markets for real estate industry growth. Average wages and job growth is an additional factor to examine.
(note: all income data is based on latest US Census numbers, list prices are based on data from Zillow)
Job Growth
Despite the appealing price tags of small towns like Decatur, migration patterns of homebuyers indicate that it's not the only concern. In a recent study from Redfin, Portland, with an affordability score of 9, moved back into the list of top 10 metro areas with the highest net inflow of Redfin users. Where do the people peeping on list prices in Portland currently reside? San Francisco.
What cities have the best job growth outlook?
According to MarketWatch, the top three cities with the most job openings are:
Boston, with an increase of posting of 8.4% year over year and a total of 152,683.
Philadelphia, with an increase of 6.4% year over year and a total of 112,692.
Atlanta, with an increase of 5.5% year over year and a total of 192,889 openings.
Other cities seeing steady job growth include Phoenix, Arizona (3.3%), Orlando, Florida (2.9%), and Houston (1.3%) and Dallas (2,6%), Texas.
Of course, new jobs don't tell the whole story. Pay increases also matter when consumers are considering a home purchase.
According to the PayScale Index, Nashville has the highest wage growth year-over-year.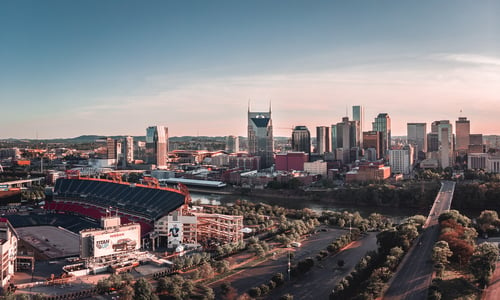 Winner: Nashville, Tennessee – 4.7% wage growth in 2019
Runners Up: Seattle – 4.4%
San Jose – 3.7%
San Francisco – 3.5%
Denver – 3.4%
It's not surprising that cities with high concentrations of tech-related industry work saw the best growth in wages.
For statewide job growth, Nevada saw the largest percentage in the nation according to the US Bureau of Labor Statistics from August of 2018 to 2019. The majority of job gains were in the construction sector with 10,500 followed by 8,900 added to professional and business services, which is a broad category encompassing lawyers, architects, and engineers to data entry clerks, security, and custodians. Part-time employment is also high in Nevada, so as a result, the wage growth wasn't as impressive as in other areas.
The growth in Las Vegas, NV, and Sacramento, California, paired with the proximity to more expensive markets like San Francisco and Los Angeles, make these cities popular relocation destinations for homebuyers and job seekers.
Other cities with strong job and wage growth include Boston, Washington DC, Seattle, New York City, and Los Angeles. Unfortunately, the housing markets in these cities are saturated with homebuyers and short on affordable inventory.
Arizona's focus on tech means more growth
The state of Arizona ranked #2 in the nation for year-over-year job growth, according to the U.S. Bureau of Labor Statistics.
Much of that is driven by hiring in the fields of Education and Health Services, Construction, and Professional and Business Services. Arizona's governor is dedicated to growing the state's economy and cementing it as a great place to live and work through STEM and technology investments.
Arizona is home to more than 9,000 tech companies, adding over 6,700 jobs in the sector in 2019. This sets the pace of growth in the technology sector in Arizona at 40% faster than the rest of the nation. The state has also seen the strongest manufacturing job growth in three decades.
Arizona was projected to add 70,000 jobs in 2020.
Real estate professionals on the west coast looking for new markets to grow in may want to keep an eye on Arizona.
Vermont Remote Worker Grant
Although no cities in Vermont were mentioned in terms of outstanding job growth, the state has initiated a unique program to attract new residents.
The state aims to attract the growing workforce of remote employees with their Remote Worker Grant Program.
The hope is a generation of digital nomads will make Vermont their home base. Applicants may receive up to $5,000 per year for two years if they meet the program's eligibility. The money can be used on expenses incurred due to relocation to Vermont and/or expenses necessary to perform their employment duties, like computer software and hardware, broadband access, or upgrade or co-working memberships.
While there are clearly many approaches taken to attract and retain the coveted "prime working age" demographic of 25-54-year-olds, it's clear that without growth in construction and new affordable housing stock, those efforts are futile. It's not a coincidence that the job markets with positive growth saw an increase in the Construction industry like Arizona.
New Home Construction
Adding jobs is only one ingredient to economic health; new homes are essential to a market's stability and future growth.
Top Cities with New Homes
The following list is based on the largest increases in residential construction permits:
Winner: Orlando, FL – With a one-year change in permits up 48.6%, Orlando has seen more permits issued to builders in the last year than any year this decade. Even still, builders are struggling to keep up with the influx of new residents, including retirees, new professionals, and Puerto Ricans leaving the island after Hurricane Maria.
Most of the new homes in Orlando these newcomers are buying are three to four-bedroom single-family homes in communities with amenities like pools and fitness centers.
Houston, TX – In the last year, Houston has seen a 33.6% increase in permits with a total number of permits at 57,021. This huge growth is largely due to the devastation of Hurricane Harvey, which forced many homeowners to rebuild what couldn't be salvaged.
Atlanta, GA – Atlanta has seen a 19% one-year increase in permits with a total of 39,132. One of the fastest-growing suburbs outside of Atlanta, and the nation, is called Scottdale. Only 25 minutes away from the hub of Atlanta, the prices in this community are also reasonable at $250,000.
Austin, TX – One-year change in permits: 15.1%
Phoenix, AZ – One-year change in permits: 5.7%
Dallas, TX – Change in permits: 2.8%
Seattle Washington – Change in permits: 2.1%
While the increase in new home builds is one of the biggest in the country, it's not enough to keep up with overall demand. As a result, many homebuyers in Atlanta are buying newly renovated homes from flippers.