If you give a mouse a cookie, he's going to ask for a glass of milk… it's a line from a cute children's book, but it also says something about the human nature of expectations and routine. As more and more people continue to work from home, we can expect greater adoption of the practice long after the pandemic ends.
Especially for those who are new to remote work. Indeed, if you give an employee the chance to work from home, he's going to ask to stay home. This desire to keep work at the home office is driving what some real estate analysts have dubbed "The Great American Move."
The pandemic is steering work and homebuying trends that are likely to continue even after an effective vaccine hits the market. Here's how COVID-19 is affecting homebuyers and businesses.
COVID-19 effects on homebuying and businesses
There are three factors that consistently impact homebuying and selling trends. Housing affordability, job growth, and new construction have all been affected by the novel coronavirus.
Work from home is driving both residential and commercial real estate decisions since the flexibility of doing your work from anywhere opens up more affordable options for those working in expensive urban housing markets. According to one report, there was a 13% increase in the number of searches for homes in suburban ZIP codes during the month of May, and more than half of the nation's 100 largest metropolitan areas are experiencing heightened interest in the suburbs.
A stark decrease in commercial leasing activity (a more than 20% drop) also reflects the new normal for millions of Americans working from home.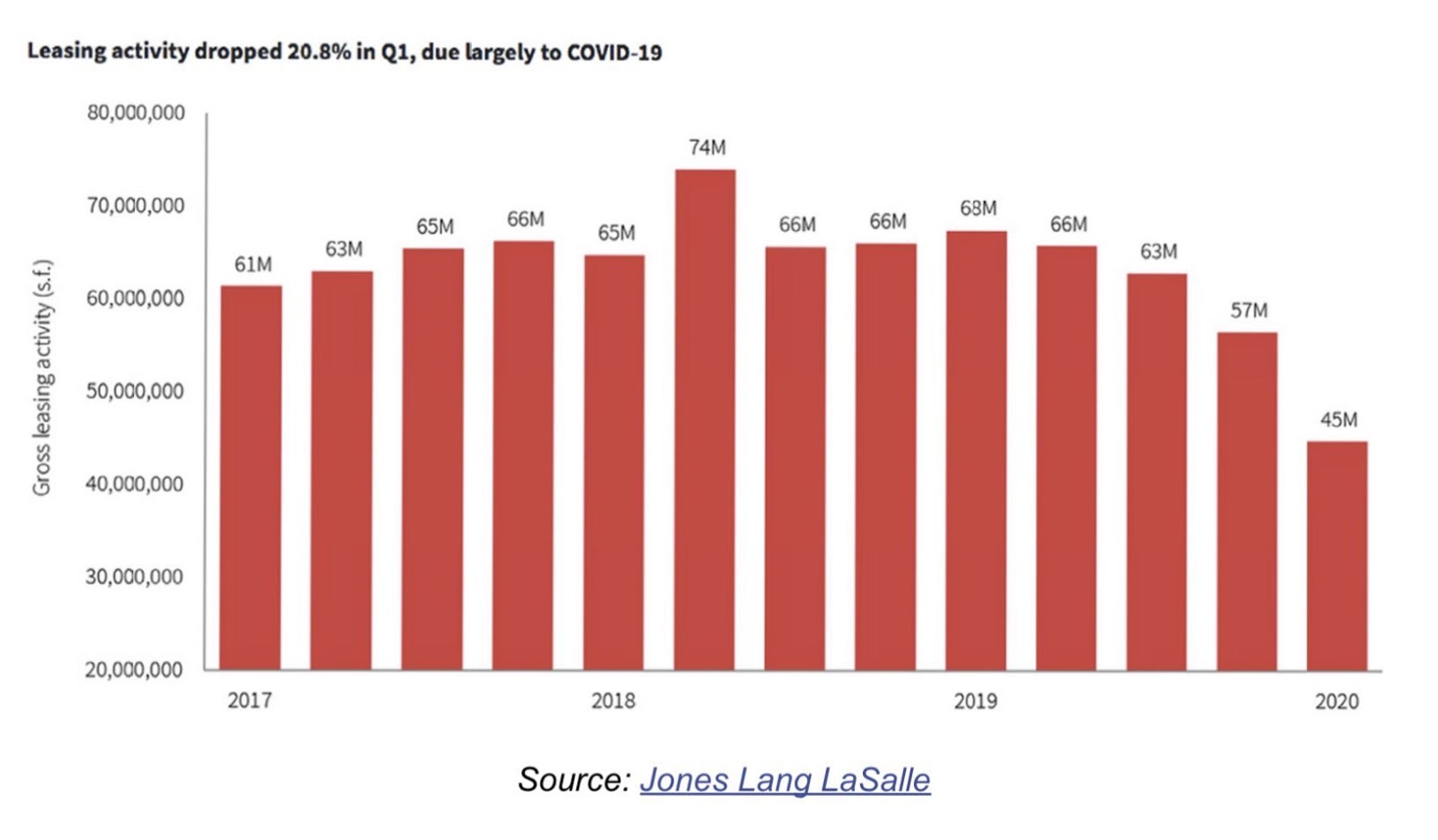 Increased sight-unseen offers and interest in remote closings
At the beginning of the COVID-19 crisis, both homebuyers and home sellers pulled back as fears about contracting the virus resulted in real estate agents reporting a 78% decline in buyer activity in the first week of April, up 45% compared to the two weeks prior. Sellers reacted in kind with a decrease in seller activity by 76% that same week.
Between stay-at-home orders and social distancing recommendations, homebuyers are more likely to ask about remote closing options and make an offer sight unseen.
During our webinar, What You Need to Know about eClosing Solutions and RON, we asked title agents about what factors are compelling them to offer more digital and remote closings. Surprisingly, consumer demand won out over lender requests in our poll.
All this competition among homebuyers is shifting the peak homebuying season from spring to the summer in 2020. The latest numbers from Realtor.com show demand and prices have surpassed last year's levels, but inventory remains far below seasonal norms. Lack of inventory was an issue heading into 2020, and the lull in new home construction paired with current homeowners slowing their listings stemming from the pandemic compounded the problem early on.
For homebuyers, this means sweetening their offers by forgoing inspection contingencies and purchasing above list price, culminating in an 18-month low for overall US housing affordability.
For Realtors, the pandemic has forced them to rethink what works for selling real estate, including offering more personalized video tours and virtual home tours of their listings.
Finally, for title agents and loan signing agents, it means adopting new guidelines, new technology, and becoming certified in remote online notarizations in order to cater to the consumer demands for a safer closing.
Work from home benefits employees and employers
More than likely, the massive work from home trend will continue since the pros of working from home seem to benefit both employers and employees. Employees also save between $2,000 and $6,500 on commuting, daycare, and wardrobe costs (do any of you also pair comfy yoga pants with a button-up shirt for conference calls?). However, telecommuting isn't a proper substitute for daycare, and employers will need to also be flexible with work schedules for remote employees with small children.
As the school year begins, workers with children in school are faced with some tough choices. Only 19% of parents surveyed by the Pew Research Center were comfortable with sending their children back to school for full-time and in-person sessions. This means that some parents are cutting back on their work hours to accommodate a solution that works best for their family's safety while others are required to be home to meet the limited in-classroom schedules of schools.
Families looking to buy are considering not just space for a new office in their home but also other multi-purpose spaces for their school-age children. As families look to expand their square footage, homebuilders are reporting an increase in demand for single-family homes in lower-density markets, including small metro areas, rural markets, and large metropolitan suburban areas.
Moving further away from urban areas with higher price tags to the suburbs for more space at lower costs has become one of the biggest homebuying trends brought on by the pandemic.
Title companies are adopting remote work and remote closings
In my interview with Eric Fontanot from Patten Title, we spoke about how their early adoption of technology-enabled his team to move quickly to a remote work setup. While closers still come into the office to complete some deals, certain roles, like the finance team and processors, perform just as well if not better remotely.
Eric highlights how the pandemic has him rethinking what the title company of the future may look like. As many industries move away from unnecessary large brick-and-mortar spaces to house their employees.
"I think a lot of industries are determining that maybe remote workers are a very effective solution to huge office spaces. How that hit us directly is that our accounting department; we are able to consistently situate them from a work-from-home position, and right now we don't have plans to bring them back in any time soon. Same with our post-closing department and our open order department. They were all able to continue to function at very high levels," Eric explains.
At PropLogix, our CEO has committed to growing part-time and full-time opportunities for remote US workers.
It's unlikely that face-to-face closings will end any time soon, but the place where escrow officers and closing agents meet with homebuyers is likely to be a smaller space suited specifically for finalizing closings.
Manufacturers are rethinking offshoring
While the title and real estate industry is faring well, some industries, like hospitality and tourism, have taken major blows due to the pandemic. The impact on job growth is reflected in Florida's revenue numbers from April, May, June, which were $2.1 billion less than originally expected. One memo from a Florida State Representative speculated that employment and revenue at hotels and tourist attractions would continue to suffer and that a return to business as usual in the hospitality sector is unlikely to occur before 2022.
One bright spot is the announcement by those in the manufacturing industry to relocate or expand businesses within the U.S. The COVID-19 crisis caused a major disruption in the global supply chain, and now manufacturers are taking a step back to examine their business models that relied exclusively on returns (cheapest labor) to focus more on risk management.
Some of the current hotspots, like Florida, Texas, Arizona, and Georgie are set to be the biggest beneficiaries of this paradigm shift. Examples include commitments by the chipmaker TSMC to Phoenix, Arizona, and carmaker Tesla to Austin, Texas as its new Cybertruck factory location. The promise of thousands of jobs in these areas will bolster local economies and add to the demand for new homes.
Will the trend of remote work and remote closings continue?
It's unlikely that once employees, employers, and homebuyers get used to doing things a certain way that everyone will revert back to the old way of doing things. While remote work and remote closings won't necessarily work for every industry or every buyer, the pandemic has pushed acceptance of both lightyears ahead of what would have naturally unfolded.