The recession caused by the global coronavirus pandemic is unlike the last one we witnessed. This time around instead of the housing market being the catalyst for the economic downturn, it's been praised as one of the likely sources to help turn the economy around. Early on, there was reason to be optimistic as pending sales and mortgage applications quickly rebounded as mortgage rates dropped and homebuyer demand increased. While spring homebuying fever was delayed as governors decided how to cope with the virus, sellers pulled their houses off the market, and real estate professionals scrambled to keep their deals alive, the summer homebuying season has more than made up for it.
Despite the recovery, there are still reasons to be concerned.
In June, I talked about some of the early signs of a housing recovery and reviewed the following key metrics:
pending sales
mortgage applications
interest rates
homebuyer demand
The National Association of Realtors released data showing that pending home sales are continuing an upward trend coming off the heels of a busy summer. It was a 3.9% increase from a year ago.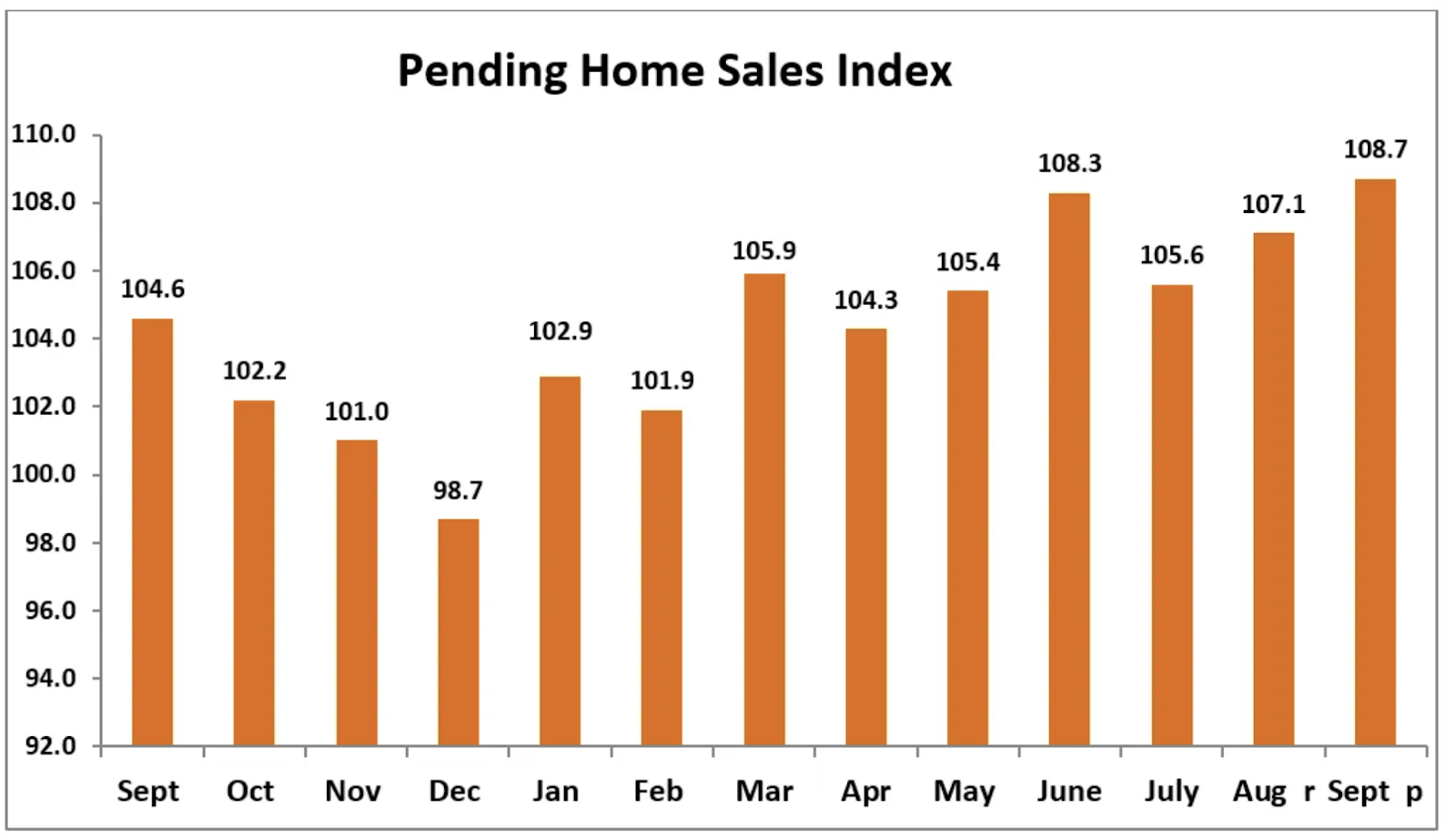 Source: NAR
Mortgage applications see-sawed through the month of September and ended on the negative side the last week of September. Both refinances and purchases were down that week, but still much higher than the year before. Refinances continued to represent the bulk of applications at 63.3% for that week.
Matt Graham, CEO of MBS Live told the Mortgage News Daily that the likely culprit for the increase then drop was the announcement of a 0.5% "adverse market fee." The expectation is that the fee will be passed off to the borrower in a form of a higher rate.
"First off, we're not really seeing a big enough drop in either side of the application numbers to label it as anything other than normal volatility in the bigger picture. If there is a cause and effect relationship here, it's that refinance activity is being pulled forward as people have rushed to get applications and locks in before getting hit with the new adverse market fee. This primarily took place on the week of 9/14 through 9/18 as that's when a majority of lenders began to re-implement the adverse market fee. A bit of a drop off in the following week is a logical consequence," he explained.
Join our 2020 State of the Title Industry Roundtable to hear more from experts!
Despite the worry over the fee, Mortgage rates actually moved even lower the last week of September from 3.05% to 3.01% for the average 30-year fixed-rate loan. Refinances jumped 8% that week and were 50% higher over last year according to the Mortgage Bankers Association.
Doug Duncan, Senior Vice President and Chief Economist of Fannie Mae predicts rates will stay low in 2021 if the Fed keeps the short term rate where it is, but he expects home prices to continue to rise. Back in August Fannie Mae projected the 30-year mortgage would average 2.8% in 2021. The additional fee is to take effect on December 1st, so we'll have to wait to see if the prediction pans out.
Homebuyer demand has remained steady throughout the pandemic even as sellers were taking their homes off the market due to fear of the coronavirus spreading via showings. Bidding wars have become the standard in many markets as homebuyers fight over a paltry inventory. Buyers are aware of how this is impacting their budget, and it's beginning to take a toll on their confidence.
In a new survey from Fannie Mae, consumer sentiment on if it's a good time to buy or sell saw a reversal since the start of the pandemic. For the first time since February, more respondents thought it was a better time to sell than to buy. While overall confidence hasn't returned to pre-pandemic rates (the HPSI is down 10.5 points from last year), the increases reflect the strong home purchase activity we saw over the summer.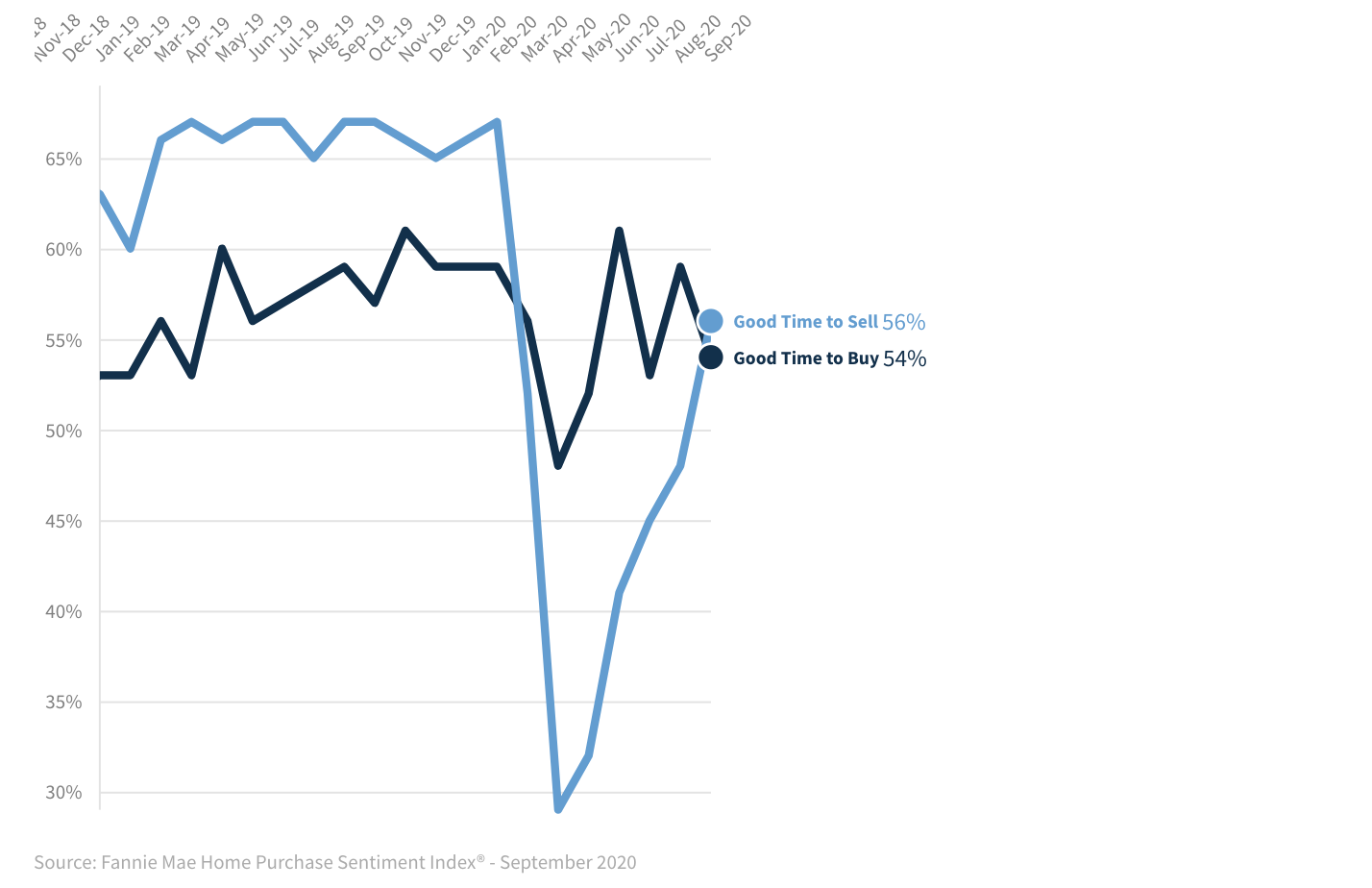 Lingering Concerns About Housing Affordability and Stability
These are some great trends that we're seeing, but there are some lingering concerns over affordability as migration patterns drastically change some markets and what will happen when those in mortgage forbearance can no longer delay payments.
Affordability is still a huge issue for most Americans
As remote work is becoming a permanent or semi-permanent for many of those looking to buy a home, the housing market in suburbs outside of big cities are heating up. Meanwhile, big coastal cities like New York and San Francisco are seeing a drop in demand.
Affordability is calculated with three variables:
Median income
Mortgage rates
Home prices
The Affordability calculation also assumes that buyers are putting 20% down on their purchase. Tim Ellis demonstrates the delicate dance between these three factors by inverting some of the variables in the equation with data from King County.
Although the latest numbers released by Redfin show that home prices are up a record 15%, some experts often point to the stability and growth of median household incomes and low mortgage rates as the counterbalance, but that sentiment isn't reflected in a September survey of homebuyers from Fannie Mae.
As more tech companies like Microsoft allow employees to work remotely on a permanent or semi-permanent basis, it's likely that these migration trends to suburban and rural areas and local home shoppers will face even stiffer competition.
However, CoreLogix's Market Risk Indicator is predicting a decline of 6.6% by May 2021 due to unemployment.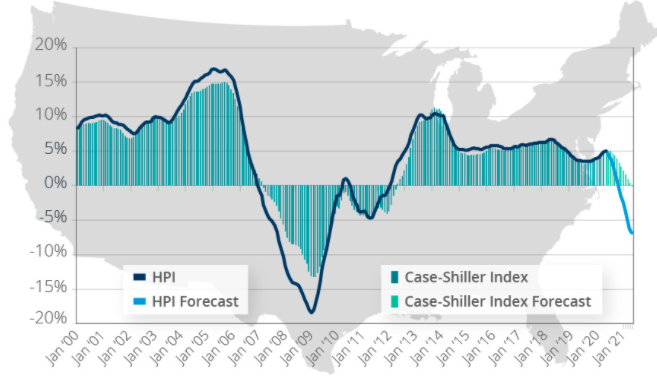 Source: CoreLogic
A million borrowers missed out on forbearance
If borrowers currently in mortgage relief programs are still struggling to find employment when the program ends, it could turn into a foreclosure crisis for many.
Forbearance has fallen below 3 million
All loan types have seen reductions, but the greatest reduction was in portfolio held and private security loans (24%) then Fannie/Freddie (16%), followed by FHA/VA (15%)
2.97 million borrowers (or 5.6% of all active mortgages) are currently in forbearance
Almost 25% in forbearance are still paying
Over 1 million homeowners who didn't opt into forbearance are at least 30 days past due on their mortgage in September
75% of those that remain in forbearance have had the terms extended at least once
The fall is due to the forbearance program ending in October for the wave of borrowers who applied. As the six-month end of forbearance approaches in October, some experts are anticipating the number of people past due on their payments to grow. Homeowners can take advantage of extending the forbearance, but they must request it.
Additionally, a survey conducted by the National Housing Resource Center shows that many homeowners currently behind on payments simply didn't know that forbearance was an option. Despite one million borrowers falling through the cracks, most respondents (70%) also didn't think that instituting an automatic forbearance program was a good idea. One respondent who replied "no" succinctly explained, "I do think this should be automatically offered to the client, but it should not be done without explaining what this will mean to the client's loan and making sure they are aware of all the particulars."
An uneven recovery
Of course, the housing market doesn't operate in a bubble, and it's not immune to what's happening in the jobs market. Only about half of the 22 million jobs have been recovered since lockdowns spread across the nation in March and April. While the housing market can help spur growth through building and selling more homes, the unemployment rate could drag down the progress of home sales in the months or years to come.
Overall, whether you think the numbers point to blue skies or a storm brewing often depends on your perspective. For many average homeowners and renters, the fear of losing housing is palpable, and it's clear that many people who needed help didn't realize that it was available.
Borrowers who are struggling to make mortgage payments should visit the CFPB website to learn more about forbearance options.