It's important to celebrate a homebuyer's big day, but nobody wants to see the same photo of smiling couples behind a cardboard cutout of a house. Likewise, even the most business-minded workaholics like to laugh. That's why it's important to think about the content you're sharing on your website and social media pages.
So how do you formulate the right amount of humor, industry news, education, and thought leadership? Content Mix is a term used to describe the types of content and how they relate to your company's overall goals or business strategy.
Here are some tips and inspiration to help your company find the right blend of content to build customer relationships on your social media channels.
A Good Content Mix
Boring or repetitive content is one of social media mistakes your title or real estate company should avoid. Like a well-balanced meal, there should be a variety of content that is curated and created for your website and social media pages. Each has a different purpose, which includes:
To entertain
To inspire
To start a conversation or spark controversy
To inform or educate
To share industry knowledge, news, and resources
To Entertain
Light-hearted jabs at professional pain points like this blog on 13 Totally Relatable GIFs for Title Agents and Real Estate Attorneys or this one on the frustration of doing HOA research are great ways to engage and delight your audience.
GIFs, fun facts, trivia, quizzes, and humorous videos are all great options to entertain your followers. But this should be treated like sugar, too much humor on your Facebook timeline can start to get old, and your audience may have important questions about real estate they expect you to answer. This is why you'll want to sprinkle on the fun sparingly and be sure to add heartier portions of other types of content that inspire, inform, and demonstrate your industry knowledge.
To inspire
Inspiration can take many forms! While quotes from industry experts are great for engagement, they are commonplace. Instead, stand out with video. You can get started with just your iPhone and post it to LinkedIn. It doesn't have to be a high production. What matters most is understanding your audience and creating content that resonates with them.
In the video above, we provide tips on how to update technology to accommodate remote closings. Hopefully, this video demystifies some of the requirements for performing such closings and inspires some title companies and law firms to take the plunge on offering more digital closing solutions for their clients.
To inform or educate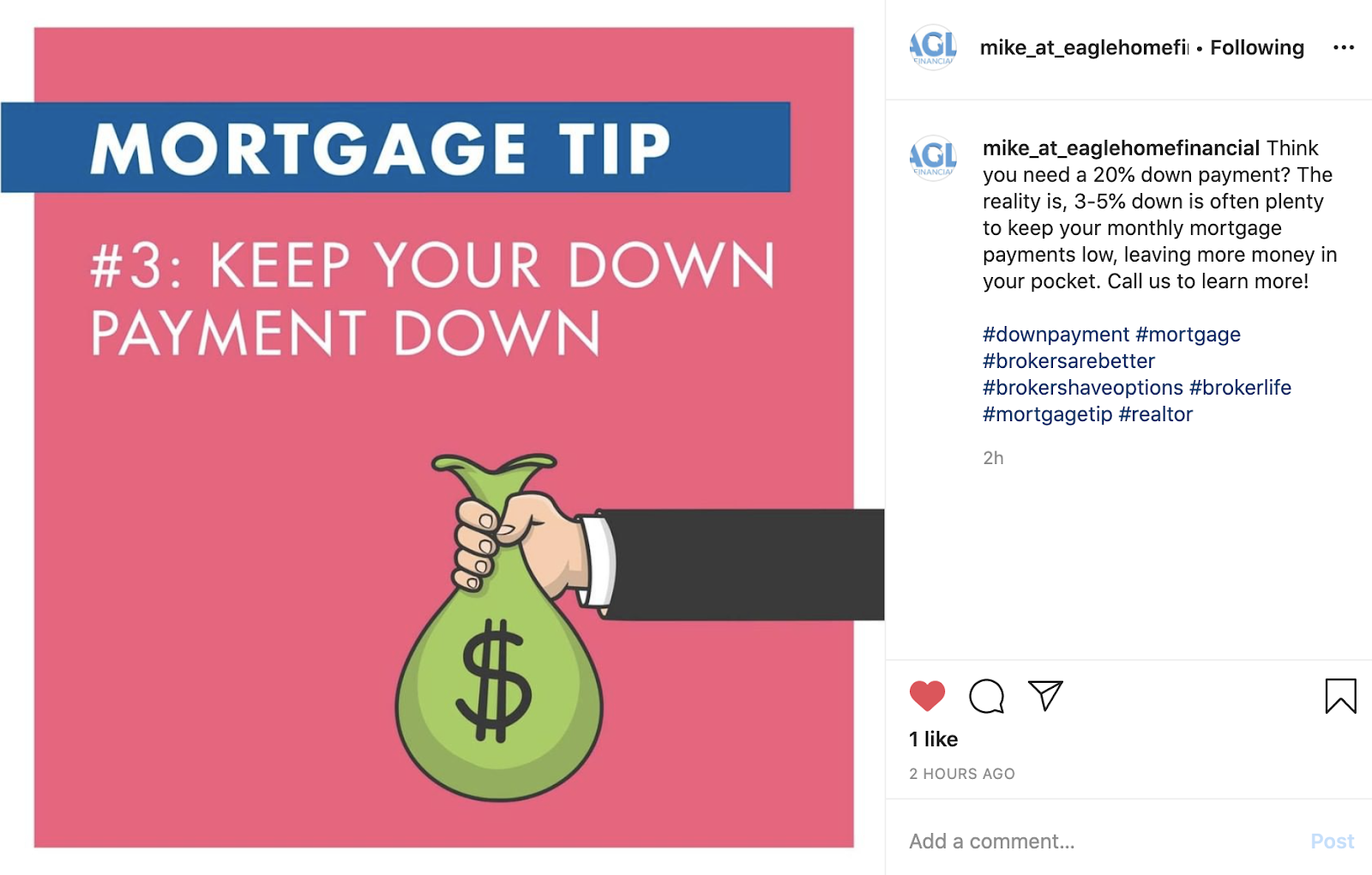 Webinars are a great way to give your audience a deeper dive into a topic or ask questions in real-time, but educational content doesn't have to be presented in a long format.
As you can see above, this bite-sized piece of advice is perfect for Instagram because it's simplified and to the point.
To start a conversation or spark controversy
Many companies may want to stay away from controversial topics, but "sparking controversy" doesn't necessarily need to include politics or religion. Within any industry, there are changes to regulations, laws, and technology that will always be a great place to start.
Find a strong point of view on a topic hotly debated among your colleagues and share it with your audience. This can be done by asking a subject matter expert in your company or outside your company to write an editorial article for your website or create a poll on Facebook or LinkedIn to get a better pulse on what your followers think.
To share industry knowledge, news, and resources
This should make up the majority of the content you create and share. Fortunately, it's also some of the easiest to come by since there are a plethora of title and real estate industry publications and organizations putting out content you can curate for your social media feeds.
However, if you have the bandwidth, creating your own content will help build your authority and trust among your audience.
Whether you create your own content or share content from others, focus on consistency and purpose.
Types of Content
As you have already seen in the examples above, there are lots of different types of content that you can share, including (but not limited to):
Articles or blog posts
Thought leadership
Links to your website
Company news
Infographic
Videos
Slides or presentations
Webinars
Tutorials
Podcasts
Polls
Photographs
Downloadable guides
Quotes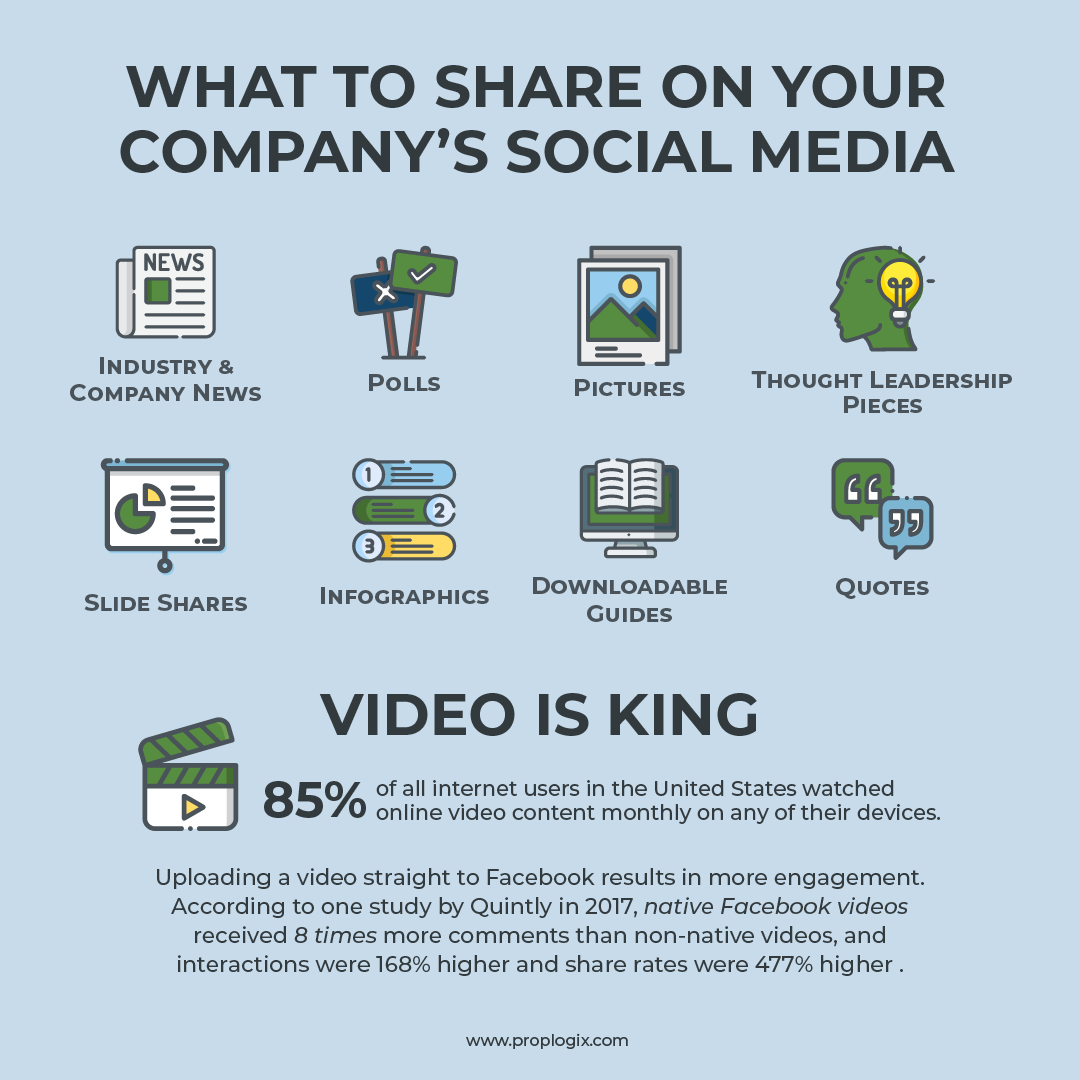 Each content type will lend itself more easily to a particular purpose. For instance, GIFs are ideal for laughs, quotes from leaders in the title and real estate industry are great for inspiration, webinars and presentations are perfect for education, and video works for about almost any purpose!
In fact, video should be a priority for you or your marketing team in 2020. One of the lessons learned by many in the industry during the COVID-19 pandemic has been the importance of using video to connect better with customers.
How Content Affects Marketing Goals
While it's fun to share posts about National Pizza Day or photos of the office dog, these posts don't necessarily drive the key sales metrics that matter most to your real estate business. That's not meant to keep you from sharing these posts, of course. This type of post can actually help drive brand awareness and affinity, but remember that entertaining posts are the dessert of your content mix. Use sparingly.
The majority of what you are posting should reflect every stage of your marketing funnel from awareness to consideration to conversion. Social media can help you achieve the following goals:
Build brand awareness
Generate Leads
Nurture Leads
Encourage a sale
Create brand affinity
Add a Call-to-Action
Regardless of the content type, each post should have a clear next step or call to action that aligns with your goal of that post.
This post from a Realtor on LinkedIn is a great example of using an attractive graphic with a quote from a thought leader to encourage followers to message her. Another example would be to add links to relevant blog articles posted on your website to drive traffic and brand awareness. I often do this by tying in the latest real estate fun fact with the theme of a recent blog article.
Content Creation Limitations
Like most professionals, you have limited time and money. While growing your business with social media marketing is on your list of things to do, it doesn't take priority over your main goal of helping homebuyers and sellers. Fortunately, anyone can get started with curating content that fulfills the purpose of sharing industry knowledge and resources with these great sources for title and real estate companies.
If you're lucky enough to have a dedicated marketing team or person, share these tips with them. Also, be sure to check out these marketing tools to help you create and share content on a budget.
We've got more tips to help you get started with social media marketing in our upcoming webinar with TitleTap.