2020 has been a chaotic and challenging year for all of us. Many of us feel as though our lives are in a strange holding pattern where time passes simultaneously more quickly and yet somehow also more slowly. But life isn't stopping for the pandemic, and people still have to make important life decisions like buying a house.
It doesn't matter if you're a first-time homebuyer or not, everyone is navigating a brave new world of buying and selling right now. To help get a handle on what to expect, here are five tips for homebuying during a pandemic.
Tips for House Hunting During a Pandemic
The truth is that no one can tell you how the coronavirus will continue to impact the housing market, but based off some current and historical market data, this advice should help guide your homebuying experience:
Don't expect a deal
Be sure it's the right time to buy
Don't skip on due diligence to win a bidding war
Be prepared for more scrutiny from your lender
Ask about remote closing options
Don't expect a deal
When the pandemic first made landfall in the United States, many nervous home sellers responded by taking their homes off the market in the face of uncertainty. Even as stay-at-home orders have lifted, only 6% of homes held open houses during their first week on the market in July, down from 16% the year prior.
Despite the lack of inventory and the barriers to seeing a home in person, purchase prices and pending sales are breaking records and showing no signs of stopping. So while your first instincts might be that you'll get a good deal during the pandemic, the reality is that you're more likely to end up in a bidding war with another buyer.
If you're thinking about buying outside of your current metro-area and relocating to an idyllic farmhouse with a fiber-optic connection to work remotely, you're not the only one. Rural homes lead home price rebounds in August.
Whether you're looking for a home in the city, the suburbs, or the countryside, prices are at an all-time high.
Listen to our interview with two real estate brokers in Washington about Selling Real Estate in a Pandemic!
Be sure it's the right time to buy
Homebuying during the COVID-19 crisis isn't for the faint of heart. Be prepared to move quickly and potentially make an offer on a house sight-unseen. More real estate agents are turning to virtual and video tours to help buyers make their decisions because open houses and home showings are severely limited to comply with social distancing orders.
The coronavirus has basically pushed what is usually a spring fever buying frenzy into the late summer. The good news is that we are starting to see a dip in pending sales, so if time is on your side, you may want to see if the decline continues into the fall and impacts listing prices in your target area.
Historically, homebuyers get the best deals in the month of December.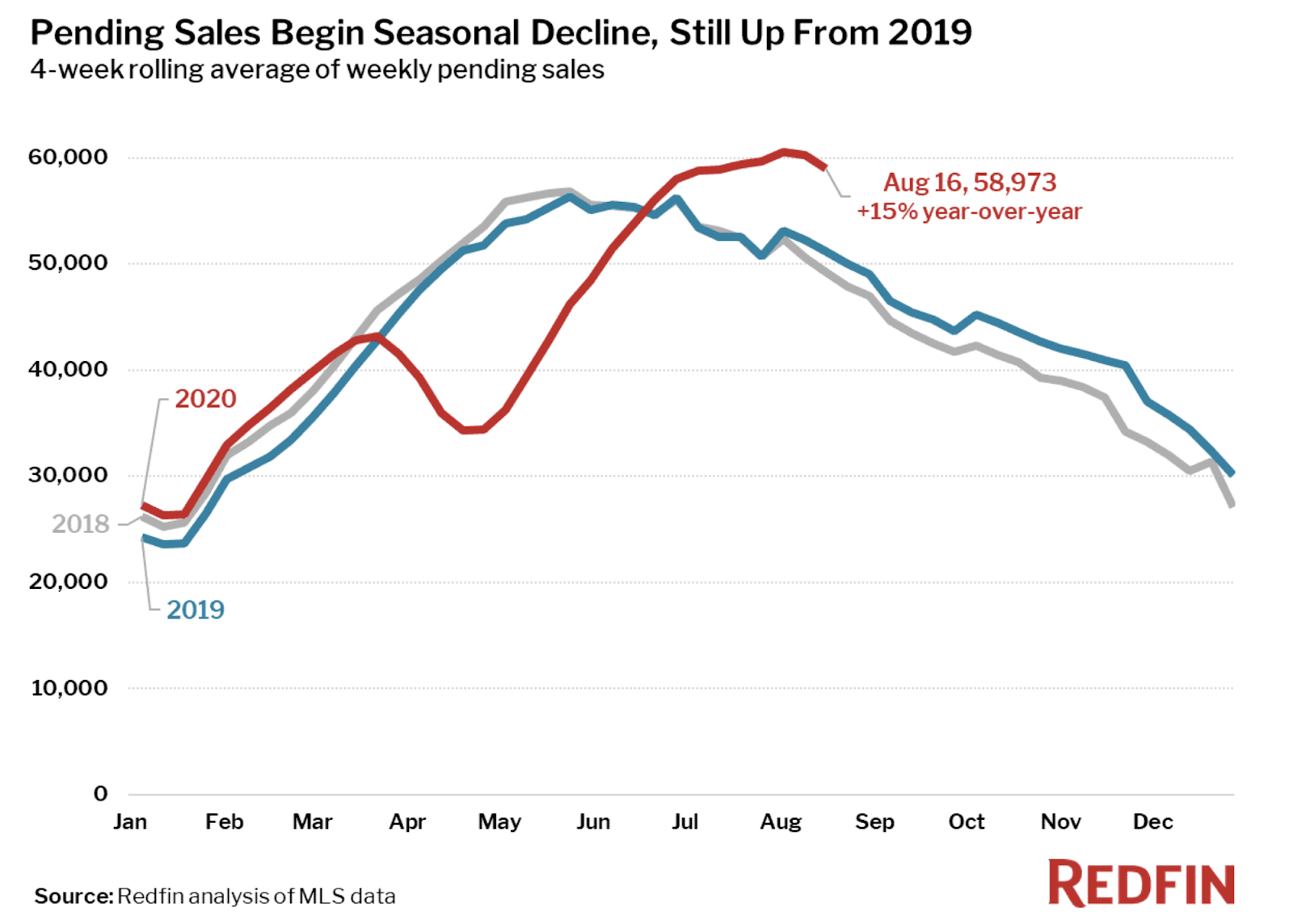 Don't skip due diligence to win a bidding war
With all the competition among homebuyers, it's tempting to remove some traditional contingencies to make your offer the most appealing. While this is a great strategy for investors offering all cash, traditional homebuyers need to be cautious. Some common contingencies include backing out of the deal if the financing falls through, the inspection reveals some major repairs, the appraisal comes back at a lower valuation than your offer, the title search shows liens and other disputes regarding the seller's ownership, and you're unable to sell your current house before the closing date.
More contingencies mean more risk, time, and hassle for the seller, so an all-cash offer with no contingencies is far more appealing even if the purchase price is lower than a financed deal.
Before you write up an offer waiving one or more of these contingencies, be sure you fully understand how each one protects your interests and rights in the property. Real estate due diligence is the process of researching your investment and depending on factors like your credit score, your relationship with your lender, the age of the home, the number of previous owners, permitting history, your ability to evaluate a home's value, and what public records you're able to access on the property, waiving one of the contingencies may be your only option to getting the house.
Weigh the risks and rewards of this homebuying strategy carefully. Instead, consider writing an offer that shortens the inspection period and a conventional loan product that comes with fewer requirements for financing than an FHA loan.
Be prepared for more scrutiny from your lender
Waiving a contingency like financing may be especially risky right now. Despite the strong signals of a recovering housing market, lenders are spooked by the high volume of current owners in mortgage forbearance. To combat their fears of lending money to homebuyers who will end up defaulting on the loan, mortgage lenders are making some homebuyers jump through a lot of hoops.
Be prepared for more paperwork demonstrating your financial stability. Make the best down payment you can afford in order to reduce the overall size of the loan and the possibility of the financing falling through. This makes an offer with a higher down payment more appealing to sellers too.
When applying for your mortgage, get at least five quotes before you decide on which one to use. Not only will it help you save money over the lifetime of the loan, but if something goes wrong with one lender, you'll have an alternative connection already established to finance the deal quickly.
Ask about remote closing options
More title companies and real estate law firms are offering eClosing and digital solutions to give homebuyers and sellers safe and convenient ways to complete a transaction. Many states have passed remote online notarization laws, making a fully digital and remote closing a possibility in about half the states.
If you're worried about doing an in-person closing or even just want to avoid a trip down to the title company's office, ask about their remote closing options.
Buying a home during the COVID-19 pandemic will present new and unique challenges for homebuyers, but equipping yourself with the right knowledge will help alleviate the stress that comes with so much uncertainty.