Statistics from the 1990 United States Census estimate that in 19 states, at least one home in every ten was mobile. Eighteen of those states are either in the south or the west and Florida has more mobile homes than any other state. Pennsylvania was the lone state representing the Northeast.
Whether it's young people looking for an affordable starter home or older people looking for a cheap retirement home in the Sunshine State, at an average sales price of $83,400, mobile or manufactured homes provide the best option for those with limited funds.
Buying a mobile home comes with some caveats that you won't find with a stick-built or "in-situ" home. Sometimes, the mobile home is considered personal property instead of real property. This distinction is important as it decides whether fees are paid to the department of motor vehicles or to the county property tax collector. It also affects how the title will be transferred and what sort of research needs to be done for proper due diligence.
The most recent US Census data from the month of February shows the majority of mobile or manufactured homes are intended for residential use. So what makes a mobile home real estate?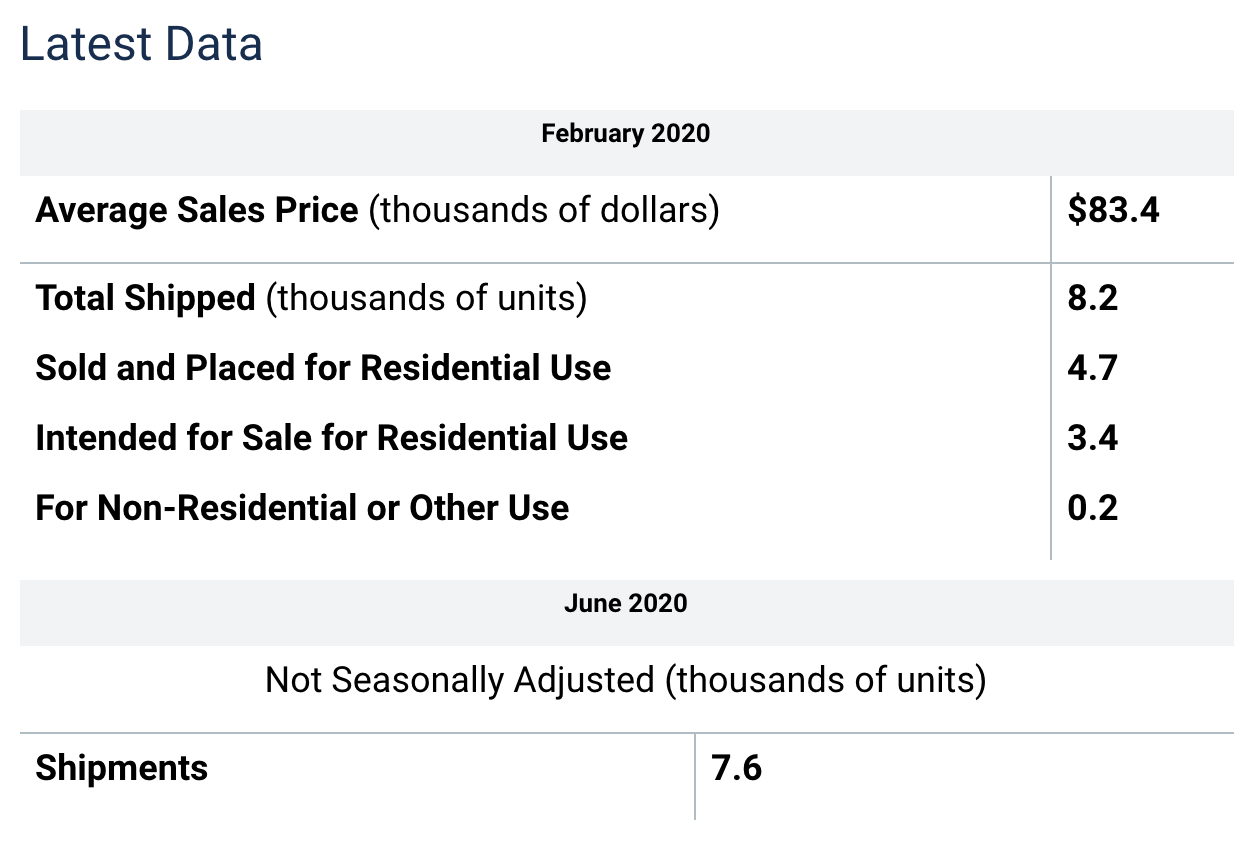 Is a mobile home real or personal property?
The answer depends on whether the owner of the mobile home also owns the land and has permanently affixed the property to the land.
In these cases, the mobile homes will be assessed and taxed annually like an in-situ home, and the information can be found within the county property appraiser and tax collector's websites. In some states, like Florida, the owner is also required to purchase a RP (real property) decal.
If the mobile home owner doesn't own the land, it's considered personal property and an annual license tax is levied on the property by the Department of Vehicle Motors. There is also a required MH (mobile home) decal for Florida residents who meet this criteria.
Personal property is anything that can be moved while real property is anything that consists of land and immovable structures and objects on it. Tangible property is anything that can literally be touched. Both personal and real property are a form tangible property.
Webinar: Uncovering Unrecorded Debt and Municipal Liens in Every Real Estate Transaction. Watch it now!
Does a mobile home have a title?
Yes. Regardless of its status as either real or personal property, a mobile home must have a title to transfer when buying and selling the property.
If you've lost the title or didn't receive one when purchasing it, the process of getting a duplicate title for a mobile home is often similar to the process for a motor vehicle and is done through your state's Department of Vehicle Motors or Department of Transportation because it has a VIN number. If you're not the first owner, but the previous owner is available, signing over the title is easy, but if the previous owner is not available, a level three or level four title recovery is needed to check and clear any defects and issue a clean title in your name.
Converting a Mobile Home's status from personal to real property
It's possible to change the status of your mobile home's title! The title registered with the DMV must be "retired" so those fees no longer apply. Once that's completed, the owner will now be paying property taxes to the county assessor.
Each state has a different process. In the state of Florida, you can fill out this form after recording the proper land documents with your county clerk of the court and submitting a sworn statement by the owner that he/she is the owner and the home is permanently affixed to the real property in accordance with the state law.
Can I get a home loan for a mobile home?
Mobile homes are a type of manufactured home whereas a modular home is considered a regular "stick-built" house. You can potentially get a mortgage for both types, but it's more difficult to finance a manufactured home, especially if it's on rented land.
For homebuyers considering a mobile home, getting the opinion of an appraiser will help. The appraisal will determine what type of home it is and whether or not it is currently taxed as real property.
Tips for doing a title search and purchasing a mobile home
Conducting a title search on a mobile home will have some similarities to a title search on a regular house, but there are some important differences.
1. The instrument transferring title is different. For a typical "stick-built" home, the deed is what transfers title from one owner to another, and it's recorded in the public record. For a mobile home, it may have a title document issued from the Department of Vehicle Motors or a deed, depending on whether it's permanently affixed to the land or not.
2. There may be other separate and unique identifiers for the land and home. There could also be two different legal descriptions depending on how it's attached to the foundation. The land will also have a different type of reference number on the tax roll called a Property Index Number (PIN), Assessor's Parcel Number (APN), or parcel number. While the mobile home may have a Vehicle Identification Number (VIN).
3. You may need to do two searches. If there are two separate titles (one for the mobile home and one for the land), each will require a search of the appropriate records and documents to determine if the titles to each are free and clear. On the title document for the mobile home, there will be a section listing any lien holders. The title search process for real property involves searching the public records of that county while the search on the mobile home will require you to verify the VIN or serial number and if there are any active liens with your local Department of Vehicle Motors.
4. Search for unrecorded issues. Not all issues that affect a new homeowner will be found in the public record. This is true of mobile homes too. A municipal lien search is a type of property report that searches for issues like unpaid utility bills or pending code violations that haven't yet been recorded with the county as an official lien against the home.
5. Search for any association or park fees. Many mobile homes are located in a park with a private association that offers amenities much like a typical homeowner's association. Like unrecorded municipal issues, overdue fees or fines from the association may not show up in the public record search, so you'll have to contact the association and perhaps make a request for an association estoppel to ensure there are no outstanding balances you as the new owner will be responsible for.
6. Ask if the current owner has the title in hand. In order to avoid any delays or issues, ask if the current owner can easily locate the title document to the mobile home (if it's personal property).
7. Confirm if you need a title company to close. Depending on how you're financing the transaction and if the mobile home is attached to land, you may need to use a title company to complete the transaction. For investors, it's a good idea to connect with a title agent or escrow officer you find trustworthy and insist on using them in the deal. This way, you'll know the title policy they issue is in your best interest. Learn more about why a professional title search is important for homebuyers.
The exact steps taken to ensure the property you're purchasing is free and clear of liens or other encumbrances depends on your area and whether the mobile home is considered real or personal property. Be sure to do your research on what is standard for your area before you make any deals.