When the COVID-19 pandemic first reached the United States, no one could predict how long the virus would linger. Governors from every state quickly issued emergency orders in an attempt to aid industries that could no longer conduct face-to-face business. In many of those orders, video conferencing during a notarial ceremony is allowed in lieu of an in-person meeting.
States, like North Carolina, are extending their emergency orders for video conferencing notarial acts beyond the original expiration date as the virus continues to pose a threat.
Yet, there is one proposed piece of legislation in the Senate and House that would provide a national framework to improve these temporary video notarizations with remote online notarization, a more secure technology and process that offers the same level of physical safety and convenience for vulnerable consumers.
Beyond the COVID-19 crisis, remote online notarization is a part of the technology stack of digital real estate transactions. Here's how the progress of technology in such a highly regulated industry is impacted by federal and state laws and why the SECURE Notarization Act is needed now.
Why the SECURE Notarization Act Is Needed
Remote notarization was first implemented in Virginia in 2012, but in the eight years that have passed only 25 states have enacted laws allowing its use. Since the COVID-19 crisis, many states have swiftly moved to pass remote online notarization laws or emergency orders using video conferencing instead of in-person notarization.
It's not often that we see bi-partisan sponsorship of a bill these days, but on March 19th, U.S. Sen. Mark R. Warner (D-VA) and Kevin Cramer (R-ND) introduced S. 3533, the "Securing and Enabling Commerce Using Remote and Electronic (SECURE) Notarization Act of 2020."
Senator Cramer highlights the need for the SECURE Notarization Act as it "brings the notary process into the 21st century, allowing people to securely complete documents while still following recommended health and social practices amid the coronavirus pandemic."
According to Senator Cramer's fact sheet on the SECURE Act, it would:
Permit immediate nationwide use of RON with minimum standards
Provide certainty for the interstate recognition of RON
Require tamper-evident technology in electronic notarization
Prevent identity fraud through the use of multifactor authentication
Prevent deed fraud by continuous capture of the notarial act via audio-visual recording
Allow signers outside of the United States, like military personnel and their families, to easily and securely sign and notarize documents.
Enhance existing state laws, while allowing states the flexibility and freedom to implement additional RON standards.
Adding additional consumer safeguards to the Interstate Recognition of Notarizations (IRON Act of 2011).
Mirrors a similar structure of complementary state and federal legislation that accommodates electronic consumer transactions, such as the Electronic Signatures in Global and National Commerce Act (ESIGN) and the Uniform Electronic Transactions Act (UETA).
If such a bill is passed, states like North Carolina would have no need to extend their emergency orders as the bill would permit nationwide use of remote online notarization and establish minimum guidelines for notaries to follow in all states when performing the ceremony remotely. The video conferencing tools allowed under North Carolina's and many other state's emergency orders would also be replaced with tools offering a more secure environment to execute the notarial act, providing better safeguards for notaries and consumers.
The SECURE Act would not:
Impede consumer choice. Consumers are still able to choose a notarial process conducted in person if they wish.
Favor specific technology or impede competition and new development or enhancements of remote notarization platforms.
Supersede state laws that follow uniform consumer protections, like those laws based on the non-partisan model state law (Revised Uniform Law on Notarial Acts 2018) proposed by the Uniform Law Commission.
Infringe on state data privacy laws.
Alter state laws on testamentary wills and trusts.
Impact recording in the land records or title searches.
Senator Warner further explained the benefits of the legislation and reasoned, "Virginia has safely and securely allowed the use of remote notarizations for years. At a time when most people should be staying at home, there's no reason anyone should have to leave just to get notary services."
A History of eClosing Tools
Diving deeper into the eClosing Ecosystem, we discover that some of these tools and the laws governing their use have been around for over two decades.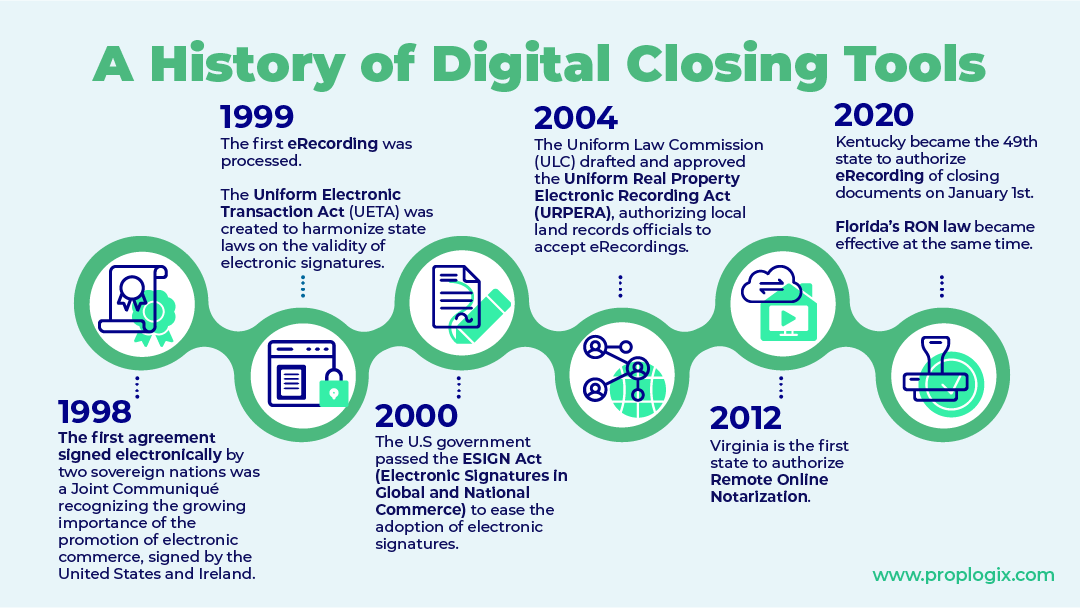 Starting in 1998, the United States and Ireland were the first to electronically sign an agreement, which was a Joint communique recognizing the growing importance of electronic commerce.
In 1999, the first eRecording was processed. Today, the only state not offering eRecoding is Vermont, and according to the Property Records Industry Association (PRIA), over 85% of people in the United States live in counties and cities that offer eRecording of public records.
In the same year, the Uniform Electronic Transaction Act (UETA) was created to harmonize state laws on the validity of electronic signatures.
One year later in 2000, the US government passed the ESIGN Act (Electronic Signatures in Global and National Commerce Act) to ease the adoption of electronic signatures.
In 2004, the Uniform Law Commission (ULC) drafted and approved the Uniform Property Electronic Recording Act (URPERA), authorizing local land records to accept eRecordings.
In 2012, Virginia became the pioneer in remote online notarization and authorized its use.
In January 2020, we can see how each state has followed unique paths in adopting these advances as Kentucky became the 49th state to approve eRecording with Senate Bill 114. On that same day, Florida's Remote Online Notarization law became effective.
Technology Is Rapidly Changing, Laws Are Not
The ESIGN Act is over 20 years old itself, so it's no wonder that Senators Jerry Moran (R-Kan.), John Thune (R-S.D.), and Todd Young (R-Ind.), all members of the Senate Committee on Commerce, Science, and Transportation, have introduced the ESIGN Modernization Act to address an outdated requirement for consumers to reasonably demonstrate they are capable of accessing electronic documents.
Thune astutely observes, "As technology continues to advance and transform, so too should the laws that govern it. Computers, smartphones, and other devices are more reliable and accessible than ever before. This legislation makes necessary updates to ESIGN to reflect these advancements in technology and make it easier for consumers to receive documents electronically."
Another piece of technology adding to consumer choice, convenience, and safety during the time of a global pandemic is remote online notarization. Unfortunately, the use of this technology is not permissible in every state.
Remote Online Notarization is Heralded by Industry Leaders
The American Land Title Association, the Mortgage Bankers Association, and the National Association of Realtors all support and endorse the SECURE Notarization Act as it benefits professionals and consumers alike.
Lawmakers are encouraged by these organizations to enact technology-neutral notary legislation that will provide more robust fraud prevention, legal certainty, and secure transaction environments for consumers than the emergency Remote Ink-Signing Notarizations (RIN) allowed under the emergency orders.
Some of the benefits of remote online notarization include:
For lenders – adding remote online notarization to the eMortgage experience shortens a loans life cycle from closing to delivery to the secondary market, reduces or eliminates paper, shipping, and storage fees (of physical documents), improve quality control with fewer missing signatures, documents, and fund faster with the delivery of an eNote.
For consumers – it makes it easier to review and sign some documents before the closing, provides a faster, easier, more convenient, and safer signing process, and creates safeguards to confirm and protect the identity of signers.
For settlement professionals – it gives loan signing agents and title professionals an opportunity to provide greater consumer choice that meets the needs of a signer, it reduces missed initials and signatures, minimizing the time it takes to correct mistakes and uses Identification Verification technology and Knowledge-Based Authentication to enhance the task of confirming the identity of the signer.
? Listen to our podcast interview with Diane Tomb, CEO of ALTA as she discusses the organization's involvement with the SECURE Notarization Act.
A Roadmap for RON and Better Digital Closings
The framework of this legislation and ALTA-MBA Model legislation for RON establishes clear and consistent guidelines for the use of the burgeoning technology. Now is the time to solidify these best practices and minimum security measures and become familiar with them regardless of where a professional is at in their adoption of the process. Without a clear and uniform roadmap for RON, the title and real estate industry will experience a disjointed embrace by early adopters that may result in a mess difficult to untangle in the future.
While the provisions in the SECURE Notarization Act are meant as a starting point for states without current regulations on RON, the demand for more real estate transaction options from buyers, investors, and lenders will only continue to increase.